Serving the El Paso Area since 2005!

Welcome to FYI Property Inspection, LLC!
Inspector Richard Fitzwater is a Texas-licensed, Certified Professional Real Estate Inspector (TREC #8317) serving El Paso, Horizon, and Canutillo Texas since 2005. Whether you're buying a new home or selling the one you are in, we will provide you with a thorough home inspection and a detailed report you can rely on to make a confident decision and to keep your family safe. Our level of service is unmatched.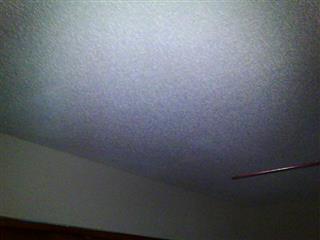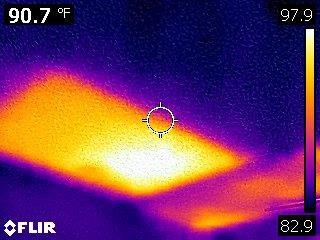 Photos above show ceiling with standard camera vs thermal camera, showing ineffective insulation
Flir Thermal Camera available for detecting leaks or insulation flaws
GFCI reset locations in the report
Non-contact moisture detection (if needed)
A wealth of knowledge to share
Tiff 8800 combustible gas detector for gas connections
Carbon monoxide checks on the furnace(s) and water heater(s)
Pole camera available for hard to reach roofs
The Home Inspection
Our home inspections usually take about three to five hours, depending on the size and condition of the home. An inspector who says that they will do it in two hours or less is simply ensuring that you will get a minimal inspection. We will inspect the visible and accessible structure, systems and components of the home, inside and out, from the foundation to the roof. (Read the list of items we inspect here.)
We'll show you where the various shutoff valves and disconnects are. We want you to know your home and be prepared for emergencies, as well as understand the responsibilities of home ownership. 
Remember that an El Paso home built to "Code" is the minimum legal standard for occupancy.
Thank you for all of your time and effort in your inspection. This man takes great pride in his work and takes his job seriously. He genuinely cared for our safety. This man is a great public servant and man of great class. He went above and beyond explaining all the details and explaining how…
Richard of FYI Property Inspection is the best. He was incredibly thorough, he does not just take a stroll around the property then an hour later he is done like most inspectors. He spent 4.5 hours and pointed out things I would have never seen. He is so thorough he noticed in one of the…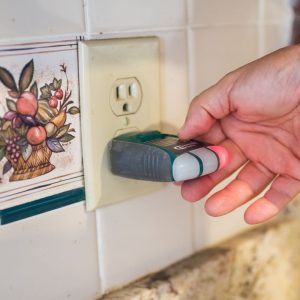 This kitchen receptacle was found without a ground or GFCI protection. Newer standards require kitchen receptacles to have both. I recommend upgrading any kitchen receptacles for safety, even in an older home. A few dollars of the upgrade is well worth it to possibly save a life.
Safety in your home is very important. A family in Las Cruces in 2011 lost their lives when they ran electrical cords together to power their mobile home. A fire started when they overheated, and the three family members inside the home died because the security bars on the windows did not have the required releases. This is a sad but true story. We have inspected many homes just like this and hope that the information from the inspection is acted upon to save lives. As a home inspector, I cannot tell you "You must" do anything, but I hope the safety items mentioned in the inspection reports are helpful and insightful. It is my goal to inform you of issues in your home that could potentially cause you or your family harm. This holiday season, be sure not to overload your Christmas light strings and unplug your lights each…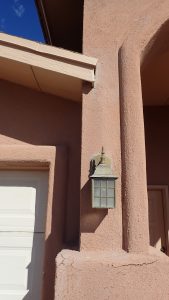 Before purchasing your home look where the rainwater on the roof will flow to. Does it flow against a wall? This will be a more vulnerable roof for leaks. An ideal roof will allow the water to flow in one direction straight off the roof. Look at the streaking and cracked stucco below the front entry wall. Water has entered it. Most newer homes have a fancy design in front to catch your eye and sell the home, but the rear of the home is usually "boring" but reliable.
Get In Touch
Please contact us for more information or to schedule an inspection.